Yes, I Daddy Ken, wrote this poem. I wrote the whole thing all by myself.
If anyone knows who did the pic, I will gladly give them credit!
Feel free to link to it etc.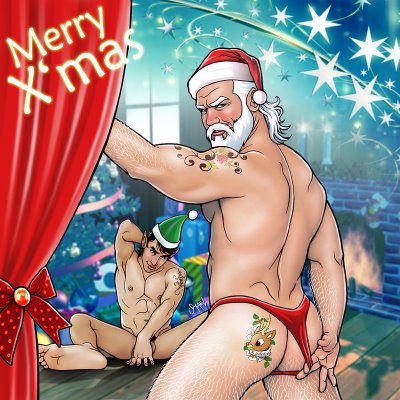 Twas the night before Christmas, watchin' porn in my house
One hand was jerking, one working the mouse.
I'd been edging all evening, and taking great care,
Hoping Daddy Santa soon would be there.
My friends were naked passed out in the beds,
All the partying and poppers had gone to their heads.
I had stayed sober, even taken a nap
To surprise Daddy Santa and hopefully sit in his lap.
When out on the lawn there arose such a clatter,
I sprang from the chair to see what was the matter.
Away to the window I flew like a flash,
Tore open the shutters and threw up the sash.
When I looked out the window and peeked down below,
It was Daddy Santa! He was pissing in snow!
When, what to my wondering eyes should appear,
He wrote with his pee, "Daddy Santa was here!".
Before zipping his pants, he showed his big daddy dick,
My mouth started watering, how I wanted to lick.
As I watch he jerked slowly, he was enjoying this game,
Then he whistled, and shouted, and called out my name!
"You have been a good boy son, but now give a listen
I do not have time for a whole lot of messin.
If you want me to fuck you and give you my all
Then get your butt naked and we'll have a ball.
I've been saving my load for when I came by,
Now my balls are all achy, I'm tellin no lie.
Hold your legs in the air, I'll get balls deep up in you
But 'it's has to be quick cause I have to continue.
And then, in a twinkling, I heard on the roof,
The prancing and pawing of horned reindeer hoof.
I was dropping my boxers, and as I turned around
Down the chimney Daddy Santa came with a bound.
He pulled out his cock as I knelt at his foot,
And I swallowed it all, right down to the root.
I played with his balls and fondled his sac.
He started fucking my face, and I started to jack.
His cock was rock hard! His belly was hairy!
His cheeks were like roses, his cum tasted of cherry!
His balls were all drawn up tight, like a bow,
Daddy Santa was right, he was ready to blow.
I flipped onto my back, with my legs in the air,
His cock entered my boy-hole, and he said with a flair,
"I've been waiting all year son. You are just my type."
Daddy Santa started pumping and laying some pipe.
Santa was pounding my ass and I was gritting my teeth,
I was starting to cum while still pinned underneath
I gazed up at his face, as my cum spewed on my belly.
He fucked me and laughed, my legs shaking like jelly.
Man could he fuck for a right jolly old elf,
I came over and over, in spite of myself!
Then his cock started throbbing, his eyes rolled in his head,
Daddy Santa was cumming just like he said.
He let out a grunt, pulled my ass close with a jerk
He loaded my boy-hole, I could feel his cock work.
When is balls were all empty and, his cock a limp hose,
He pulled out of my hole, and put on his clothes.
He smiled and winked, and left quick as a whistle,
And away they all flew like the down of a thistle.
But Daddy Santa said as he drove out of sight,
"Happy Wanking to all, and to all a good-night!"
Merry Christmas from Daddy Ken
Copyright 2010 KnJ Productions / DaddyKen.net